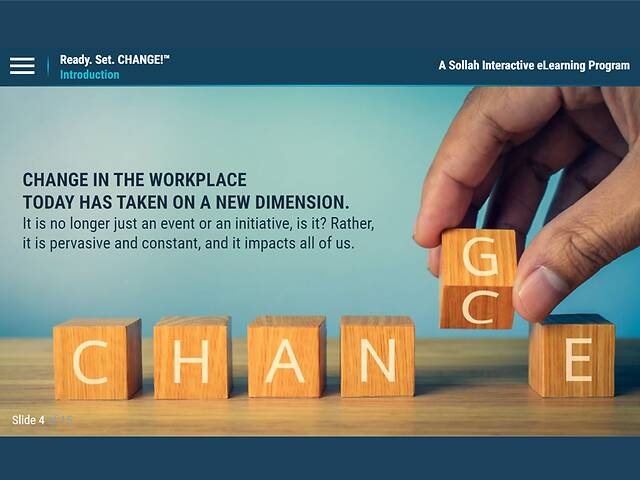 Ready. Set. CHANGE!™ Reacting Smarter. Adapting Faster. Engaging Together.
30 - 45 minutes Level: Intermediate Rating
This course helps employees positively and productively navigate any change-big or small. Through learning tools such as right-way behavior modeling, this program equips employees with skills to react smarter, adapt faster and engage together more productively when change comes around again.
Target Audience: Employees
Language: English
0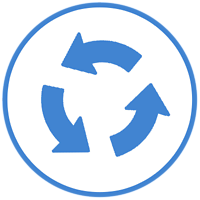 Features
Audio Narration
Interactive Exercises
Inline Quizzes
Video
Post-Assessment
Learning Objectives
Explain how your reactions to change impact those around you.
Identify feelings, concerns or issues that might inhibit your effectiveness or decision making.
Apply The Change Response Strategy™ to proactively analyze and navigate any change.
Communicate effectively and appropriately to get the information you need to engage in change.
Description
Change in the workplace today has taken on a new dimension. It is no longer just an event or an initiative, is it? Rather, it is pervasive and constant, and it impacts all of us.
This course will provide you with a clear and practical strategy that will help you develop the skills to understand, respond to and navigate any change in a way that's positive and productive for you, coworkers, customers and the organization.
Learning Topics
Industry Settings
Industrial & Manufacturing
Office & General
Compatibility Notes
Supports iPhone & iPad App: TrainingFlow™ App on iOS devices
Supports Android App: TrainingFlow™ app on Android devices
Supports Current Browsers: Chrome 60+, Firefox 60+, Safari 12+, Edge 16+
Share on Social Networks