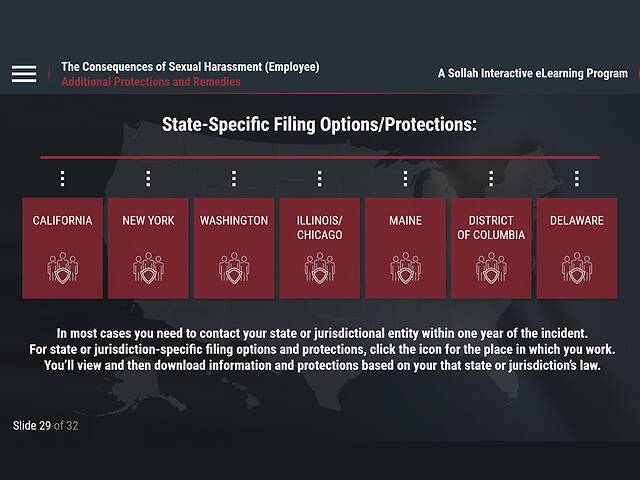 The Consequences of Sexual Harassment™ (Employee Course, Multi-State)
60 Minutes Level: Foundational Rating
One Course. Complete Training Coverage! Sexual harassment training requirements for your employees has never been easier. This newly created 60-minute course is based on the popular ENOUGH!™ training program and covers all* required state training requirements (with additional state-specific content for California, New York, Washington, Delaware, Illinois, District of Columbia and Maine).
Target Audience: Employees
Language: English
0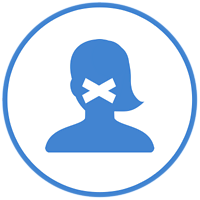 Features
Audio Narration
Interactive Exercises
Inline Quizzes
Job Aids and Reference Materials
Video
Post-Assessment
Learning Objectives
Identify sexual harassment situations.
Understand the consequences of sexual harassment and sexual misconduct – for yourself, the target of the harassment and to the organization.
How to take responsibility for your own actions.
How to take proactive steps to resolve situations involving sexual harassment.
Description
This highly interactive course uses a dramatic story line to effectively engage learners... to trigger understanding & empathy... all while driving home key learning points regarding the deep consequences of workplace sexual harassment.
The truth is... without knowing the real consequences of workplace sexual harassment, people are less likely to change. It's not until we fully understand the ripple effect of sexual harassment and how it dramatically impacts each person within an organization…when enough be will finally be… enough!
*NOTE: This course will be delivered with your organization's specific anti-harassment and complain procedure policies. Connecticut requires a 2-hour course. Please contact Sollah for details on the upcoming course for CT employees.
Job Aids and Reference Materials
Common Questions Regarding Sexual Harassment in the Workplace
2 pages

Sexual Harassment Policy & Complaint Procedure
10 pages

Sexual Harassment Policy for All Employers in California
3 pages

Sexual Harassment Policy for All Employers in Delaware
1 page

Sexual Harassment Policy for All Employers in District of Columbia
3 pages

Sexual Harassment Policy for All Employers in Illinois
1 page

Sexual Harassment Policy for All Employers in Maine
1 page

Sexual Harassment Policy for All Employers in New York
2 pages

Sexual Harassment Policy for All Employers in Washington
1 page
Learning Topics
Industry Settings
Healthcare
Industrial & Manufacturing
Office & General
Retail
Compatibility Notes
Supports iPhone & iPad App: TrainingFlow™ App on iOS devices
Supports Android App: TrainingFlow™ app on Android devices
Supports Current Browsers: Chrome 60+, Firefox 60+, Safari 12+, Edge 16+
Share on Social Networks