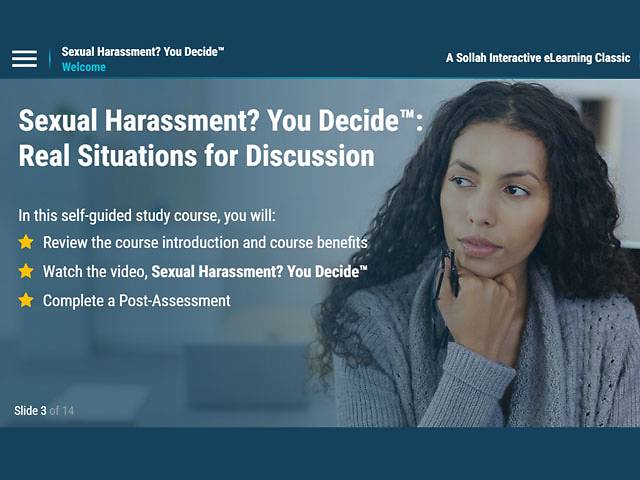 Sexual Harassment? You Decide.™ Real Situations for Discussion
45 Minutes Level: Intermediate
This eLearning course provides a solid foundation for understanding sexual harassment - through realistic scenarios and an informative narrator. Use it to supplement annual refresher sexual harassment-prevention training requirements.
Target Audience: Employees
Language: English
0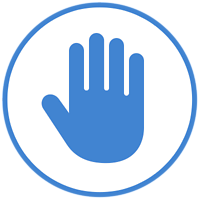 Features
Audio Narration
Interactive Exercises
Inline Quizzes
Video
Post-Assessment
Learning Objectives
Define sexual harassment.
Determine potential victims of sexual harassment.
Identify behaviors that constitute sexual harassment in the workplace.
Describe how to appropriately respond during a sexual harassment situation.
Description
Updated! Sexual harassment training is essential in the workplace in order to avoid falling victim. This program includes practical scenarios that may occur in real life to provide a reliable platform for addressing discussion, building awareness as well as encouraging compliance.
Many employees may be oblivious to sexual harassment, so it is important that employees understand how to spot, stop, and cope with harassment.
Excellent program to use for sexual harassment refresher training; helps employees clearly identify and understand what behaviors constitute harassment; great as a discussion opener on organizational policies and reporting guidelines.
Industry Settings
Healthcare
Industrial & Manufacturing
Office & General
Retail
Compatibility Notes
Supports iPhone & iPad App: TrainingFlow™ App on iOS devices
Supports Android App: TrainingFlow™ app on Android devices
Supports Current Browsers: Chrome 60+, Firefox 60+, Safari 12+, Edge 16+
Share on Social Networks