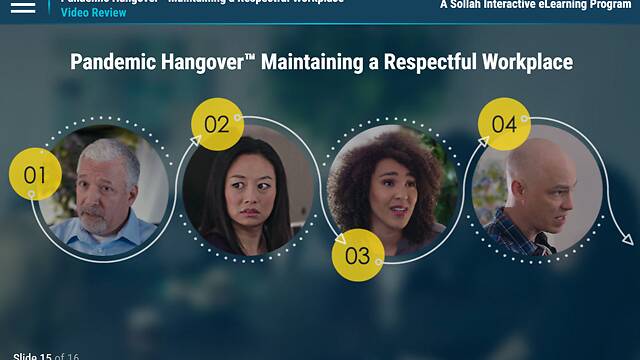 The impact of the current pandemic has been felt by just about every business around the world. Organizations are navigating a broad range of issues that span from keeping their employees and customer safe to re-configuring business operations and getting things to a 'new' normal.
Sollah Interactive has developed a new training program called Pandemic Hangover™ Maintaining a Respectful Workplace, It is designed to provide participants with practical inclusionary skills for recognizing and responding to tough situations they may face or witness within the workplace after a health scare or pandemic.
Inclusion and respect are all about people having a sense of belonging; it gives people the feeling of being welcomed, respected, valued and treated fairly for who they are and what they bring or contribute to the organization. Pandemic Hangover™ Maintaining a Respectful Workplace provides your team, staff, everyone... with the understanding, skills and tools necessary to create and maintain a respectful and inclusive workplace. This program assists your organization in preventing problems by recognizing and discussing fears – as well as policies put in place to protect all.
We recognize that organizations have their own unique culture, needs and issues. Pandemic Hangover™ was designed with that in mind. The program is flexible enough to be used as the foundation for new training or it can be easily adapted and integrated into existing training programs and initiatives.
Share on Social Networks