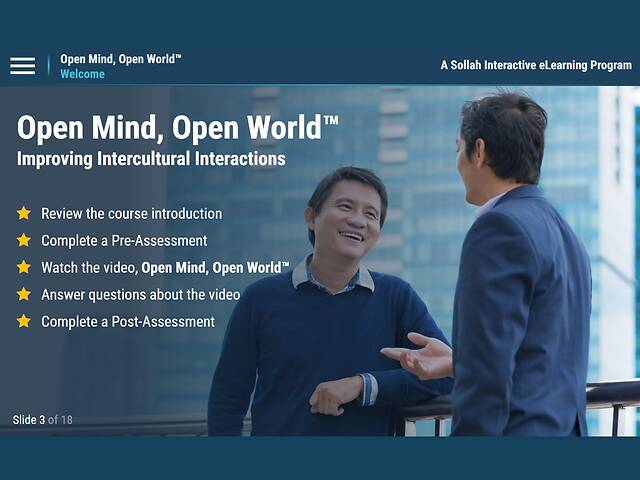 Open Mind, Open World: Improving Intercultural Interactions™
50 minutes Level: Intermediate Rating
Each of us is a product of our culture. We grow up thinking our culture is "normal" and other cultures are "different." The values or norms of other cultures are not always obvious to us. In a work environment, cultural differences can present challenges.
Target Audience: General
Language: English
1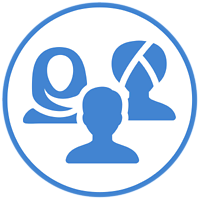 Features
Audio Narration
Interactive Exercises
Inline Quizzes
Job Aids and Reference Materials
Video
Post-Assessment
Learning Objectives
Identify cultural tendencies that impact our interactions and effectiveness with global colleagues.
Identify and respond to situations involving intercultural dynamics.
Distinguish between effective and ineffective intercultural communication.
Use global awareness and the O.P.E.N. process to improve communications and productivity.
Description
The O.P.E.N. model discussed in this course will aid in your communication.
Open Mind, Open World shows that communicating effectively in different cultural situations is based first on understanding cultural values and then on learning a new strategy and practicing skills.
Powerful self-study program defining and discussing the differences in a multicultural workplace. Although this program focuses on business, the concepts and tools apply equally well to intercultural interactions experienced by healthcare professionals, academic and administrative staff, social service workers, volunteers and anyone who interacts with people of different cultural backgrounds.
Job Aids and Reference Materials
Cultural-Commitment-Plan
1 page
Compatibility Notes
Supports iPhone & iPad App: TrainingFlow™ App on iOS devices
Supports Android App: TrainingFlow™ app on Android devices
Supports Current Browsers: Chrome 60+, Firefox 60+, Safari 12+, Edge 16+
Share on Social Networks